Be part of a community
Volunteering can help you feel part of something outside of your friends and family.
Gain confidence
Volunteering can help you gain confidence by giving you the chance to try something new and build a real sense of achievement.
Make a difference
Volunteering can have a real and valuable positive affect on people, communities and society in general.
Meet people
Volunteering can help you meet different kinds of people and make new friends.
Take on a challenge
Through volunteering you can challenge yourself to try something different, achieve personal goals, practice using your skills and discover hidden talents.
Understand more about the charity goals
Through volunteering you can witness the results of the funding in to research and support.
Have fun!
Most volunteers have a great time, regardless of why they do it.
How you can help
The Ollie Young Foundation carries out lots of direct fundraising which requires lots of volunteers. If you feel inspired to get involved please let us know!
Help run a Stall
OYF Stalls are run throughout the year at public events – we typically need volunteers to help sell merchandise, raffle tickets, run games and collect money.
Summer Fun Day Olliette
OYF's annual summer fun day requires a variety of volunteers to function on the day – marshals, car parking attendants, first aiders, stall managers, money collectors. Leaflet drops and awareness generating before the event also needs support.
Website Content Admin
Can you use WordPress? Could you spare about an hour per week to support with updating web content and creating new pages? A chance to showcase your creativity and get involved supporting the charity's aims.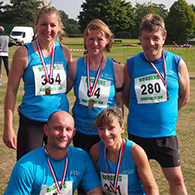 Indirect Fundraising Volunteer
Keen to help identify events that can be promoted to individuals looking to raise sponsorship? Able to spare a couple of hours each week to get involved in identifying, promoting and supporting events that can assist in the fundraising goals of OYF, please get in touch!
What our volunteers say...
Volunteering is a great way of connecting with amazing people – and the Olliettes are a fantastic team – and giving something back. When I first started volunteering, it was because I wanted to help Ollie's family in some small way. Now I am part of an incredible charity, meeting new people and joining together to raise money for research and support for other families. What I get back is so much more than what I give!
Volunteering for the Ollie Young Foundation is a great way to help a smaller, more local charity. It is amazing to see how many generous people there are in the community and makes you realsie that every penny makes a difference!