There are many ways you could help fundraise
The Ollie Young Foundation is a UK brain tumour charity providing vital funds for research and support. To help us support these aims we depend on the generosity of our fundraisers and supporters.
Get Sponsored
Run, walk, cycle or let your imagination run wild. You can get sponsored by doing practically anything!
Hold an Event
Concerts, office parties, group yoga, school fairs, cake sales, dress down days or any other event that takes your fancy. Get in touch and let us know about your event!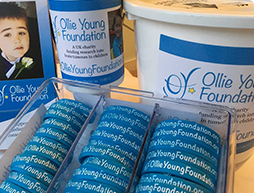 Request Collection Pots
Raise awareness and money by placing a pot in your shop, school, office, pub or club to collect donations. We can supply pots, buckets and wristbands to sell alongside.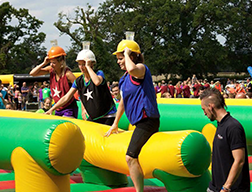 A-Z Fundraising Ideas
Stuck for inspiration? Fundraising ideas to get you started to get you started at school, work or home!
Ollie's Fundraising Roll of Honour
A huge thank you to all who have supported the Ollie Young Foundation in so many different ways.  Here you can find what our supporters have been up to!
Friday June 7, 2019
Wokingham Men's shed drum up support for the OYF
A great big thank you to Wokingham Men's Shed (with supplies donated by Wickes) and specifically Mike who has made us this terrific tombola barrel, we've still got to paint it up in Ollie's colours, but I'm sure you'll agree it'll be a great addition to our stalls and fundraising 💙
Saturday May 25, 2019
Seven Lakes Fishery Fun Day
Last Saturday we were invited along to Seven Lakes Fishery Family Fun Day over in Aldermaston. We had such a great day and the atmosphere was lovely. Loved meeting lots of new families and putting smiles on children's faces playing our teddy tombola – we raised over £174! We love spreading the OYF word further … Continued
Sunday May 19, 2019
Sweet smell of success for Holt girls
The Holt school put the icing on the cake a few weeks ago and held a non uniform day along with a cake sale for #feblueary and raised an incredible £1,100! Thank you so much to Daisy Skeates, Isabel and Shrimika for organising such a memorable event 💙
Sunday April 14, 2019
A step closer….
When the foundation was first set up it was our aim to fund research into paediatric brain tumours. Fast forward 7 years and we have funded not one but three PhD students at Portsmouth's Cellular & Molecular Neuro-Oncology Research Group – that's 9 years of targeted research funded by you lovely lot!! Alison, our second … Continued