There are many ways you could help fundraise
The Ollie Young Foundation is a UK brain tumour charity providing vital funds for research and support. To help us support these aims we depend on the generosity of our fundraisers and supporters.
Get Sponsored
Run, walk, cycle or let your imagination run wild. You can get sponsored by doing practically anything!
Hold an Event
Concerts, office parties, group yoga, school fairs, cake sales, dress down days or any other event that takes your fancy. Get in touch and let us know about your event!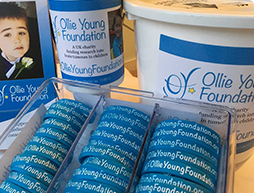 Request Collection Pots
Raise awareness and money by placing a pot in your shop, school, office, pub or club to collect donations. We can supply pots, buckets and wristbands to sell alongside.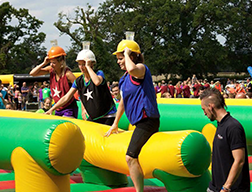 A-Z Fundraising Ideas
Stuck for inspiration? Fundraising ideas to get you started to get you started at school, work or home!
Ollie's Fundraising Roll of Honour
A huge thank you to all who have supported the Ollie Young Foundation in so many different ways.  Here you can find what our supporters have been up to!
Thursday June 10, 2021
Finchampstead FC raise over £1000 in charity match
Finchampstead FC raise more than £1000 for Ollie Young Foundation in 'Dads v Lads' match
Monday May 31, 2021
#Woky spring charity market
Thank you to #wokyspringcharitymarket and all our supporters who came along and brought cakes, merchandise, made a donation or simply stopped and had a chat, we've had a super super day and have raised over £471! Thank you!
Sunday May 23, 2021
Thank you Wokingham Lions Club!
Wow!! Such amazing news. Thank you so so much Wokingham Lions Club for thinking of us and a big thank you to all who took part "Wokingham Lions Club are happy to announce that we will donate a total of £4,500 to nine local charities. These funds were provided by more than 500 walkers who … Continued
Monday March 1, 2021
A New Hair-Blue for #FeBLUEary
What a fabulous start we had to #feBLUEary Ollie's dad, Simon, has gone all out for this year's #feBLUEary by having his hair dyed blue by budding hairdresser Lola. Over the course of the month Lola has made a hair-raising £2000 and has been blown away by people's generosity and support. You have done an … Continued