There are many ways you could help fundraise
The Ollie Young Foundation is a UK brain tumour charity providing vital funds for research and support. To help us support these aims we depend on the generosity of our fundraisers and supporters.
Get Sponsored
Run, walk, cycle or let your imagination run wild. You can get sponsored by doing practically anything!
Hold an Event
Concerts, office parties, group yoga, school fairs, cake sales, dress down days or any other event that takes your fancy. Get in touch and let us know about your event!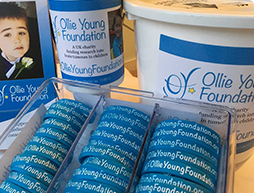 Request Collection Pots
Raise awareness and money by placing a pot in your shop, school, office, pub or club to collect donations. We can supply pots, buckets and wristbands to sell alongside.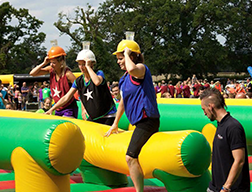 A-Z Fundraising Ideas
Stuck for inspiration? Fundraising ideas to get you started to get you started at school, work or home!
Ollie's Fundraising Roll of Honour
A huge thank you to all who have supported the Ollie Young Foundation in so many different ways.  Here you can find what our supporters have been up to!
Monday March 1, 2021
A New Hair-Blue for #FeBLUEary
What a fabulous start we had to #feBLUEary Ollie's dad, Simon, has gone all out for this year's #feBLUEary by having his hair dyed blue by budding hairdresser Lola. Over the course of the month Lola has made a hair-raising £2000 and has been blown away by people's generosity and support. You have done an … Continued
Tuesday February 23, 2021
Harrys 100!
4 year old Harry had been set a challenge from school in memory or Captain Sir Tom Moore, to complete something 100 times. He decided that he would cycle round the green outside his house 100 times. And wanted to raise £100 for charity. After reading about Ollie and the OYF Harry said to his … Continued
Saturday January 23, 2021
Lights Brighten up 2020
We are so so grateful to our wonderful friends on Culloden way for raising a massive £509.87 from another amazing Xmas light display. Thank you again Claire and Jason, you are truly wonderful 💙And thank you to everyone who popped their pennies in the collection box and donated online, this certainly brightened our new year.
Friday November 27, 2020
RUDS Virtual Cabaret 2020
Our wonderful friends at Reading University Drama Society (RUDS) held their annual cabaret evening with a virtual audience via Youtube this year due to the Coronavirus. As they say…the show must go on! It featured performances from lots of RUDS members that have all been filmed and edited over the term and pulled together to … Continued