Ollie came to Helen & Douglas House for end of life care a week after his diagnoses.
We had never been in a hospice nor had we heard of Helen and Douglas House before but the minute we got inside, it was like our second home. Even knowing that Ollie was very poorly the staff made sure that he was being Ollie! They got to know his real cheeky side and were won over with his charm within hours!
The staff and doctors involved us in every step of the way. Everything was explained and no question was silly. His care was incredible and above all we still got to be his parents and Alfie, his brother.
Ollie was limited, physically, with what he could and wanted to do which made staff determined for Ollie to achieve what he wanted. Nothing was impossible.
Without Helen and Douglas house Ollie wouldn't have got to live out the last of his journey to his fullest and with tonnes of smiles along the way. Amongst the sadness we have some of the most special memories made that will live with us forever.
Support provided by the Ollie Young Foundation
In 2019, OYF provided £15,000 of funding for a new specialist bath.  Many children with disabilities only have showers at home and this offers a relaxing and therapeutic experience via the immersive experience of bathing.
In 2016, OYF were immensely proud to be able to support Helen & Douglas House with a cheque for £13,100. The money will be used to purchase a new bed, a years worth of funding to look after the spa and 2 iPads for the outreach nurses, all things that made a difference to the family during Ollie's care at the hospice.
In 2014, OYF were honoured to be able to play a part in the refurbishment of Helen House and provided £4,000 towards the Magic Mirror System in their sensory room. This will enrich the lives of so many children throughout their stay at HDH.
In 2012, we are very proud to say that we have made our first Ollie Young Foundation purchase! Here is Alfie at Helen & Douglas House with a cheque for £3,000 which will be spent on a multi-directional hoist similar to this one. We are so pleased to be putting all those hard-earned £s to such great use in Ollie's memory.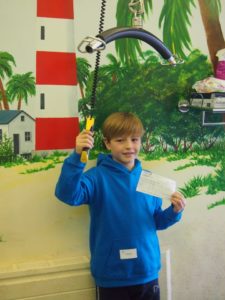 To learn more about Helen & Douglas House, please visit their website.