Article Source Wokingham Today
Generous donation given by Ollie's bench in Finchampstead
A GROUP of bikers revved up to a fundraising challenge by collecting £750 for a local charity.
Last week, the Thames Valley bikers club Take a Chance presented the Ollie Young Foundation with the cheque at Ollie's bench at Finchampstead Football Club.
Group member Tufty nominated the foundati
on as their charity of the year and the generous donation is the fruits of their biking.
The group has members from Bicester to Southampton and they are promising to continue supporting the foundation.
Ollie's mum Sarah Simpson said: "You'll be amazed at just how much these guys do for charity and we feel incredibly lucky to have been chosen. It was great to meet some of the gang and the roar of the bikes was great to hear.
"These guys had six charity events on last Saturday and we cannot thank them enough for taking some time out to hand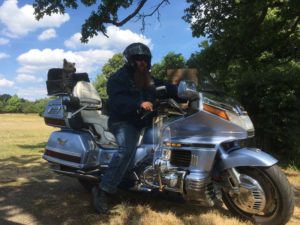 over a cheque to the Ollie Young Foundation, we are very, very grateful."
And Tufty was equally pleased to have been able to have helped.
He said: "As part of a biking organisation we see first hand the efforts biking club's make to raise money for hundreds of charities and the Take a Chance bike club also look forward to continuing to work with the Ollie Young Foundation."